We, ecofleet, are here to shake up everything related to sustainable mobility. Built on the obsession for the future of logistics, we are innovating the way goods are transported in London. When setting up ecofleet, we had in mind a business that is beneficial for people, for dense cities, for the planet, and for profit. It is our aim to help change the mindset of businesses and consumers by promoting cycle freight and improving the air quality of our city.
Businesses today are faced with an odd paradox. More than 50% of customers would like to have same-day delivery functionality, but less than 25% of retailers have the infrastructure to accommodate that.
E-commerce trends have regularly shown that accelerated delivery times are a catalyst for customer retention & loyalty. Offering a carbon-neutral last-mile delivery service, ecofleet helps businesses revitalise customer journeys from inception to completion.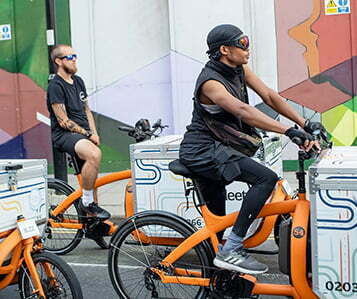 From our team on the bikes and our operations team at the warehouse, to the forward-thinking customers and communities that we serve, everything we do is done with the aim of making a positive impact on our society and the environment.
Our first day of trade was also the first day that we began working with The Roy Castle Lung Cancer Foundation. We know that our annual donation to this chartiy is making an impact on the lives of those suffering from lung disease.